Recollections 
(2019)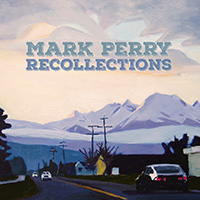 All songs written by Mark Perry (SOCAN) 1990-2016 © Mark Perry 2019 • Produced by: Northern Sky Records • Executive Producers: Mark Perry, Sandra Smith • Mastering: Graemme Brown at Zen Mastering, Gabriola Island, BC • Cover Art / Painting: Mark Tworow • Graphic Design: BC Designworks
Released 2019-01-25
This was released with generous support from Creative BC and the Province of British Columbia.
RELEASE January 25, 2019
In 1990, I recorded "Dreams of the Highway" with producer Roy Forbes in North Vancouver, BC. It was a great experience working with someone I truly admired. We both loved good songwriting and had a Northern BC connection. I still treasure my time with Roy aka "Bim".
Twenty nine years later we are putting together this collection from my first 10 albums. Choosing the songs was difficult for me. I still perform songs from that first recording at live shows today. This collection also includes a new version of "Queen of the North".
I've worked with many terrific musicians, producers and engineers over the years… so many good people. Some of them are credited here and maybe a few live in these songs. My wife, Jane, and our kids, Mip (aka Marie) and Matthew, have always had my back. My late Dad and Mother believed in me. Love and thanks! Hans Saefkow, Jordy Walker, have been through so much with me…my list of thank you's goes on and on. Most are listed on my website.
The cover is a Mark Tworow painting. 
Executive producer, Sandra Smith, has been an incredible connection for me. Thanks so much to the people of Northwest BC.
Honoured!!   ~mp