Electronic Press Kit
Northern Canadian songwriter has a cool knack for connecting people & place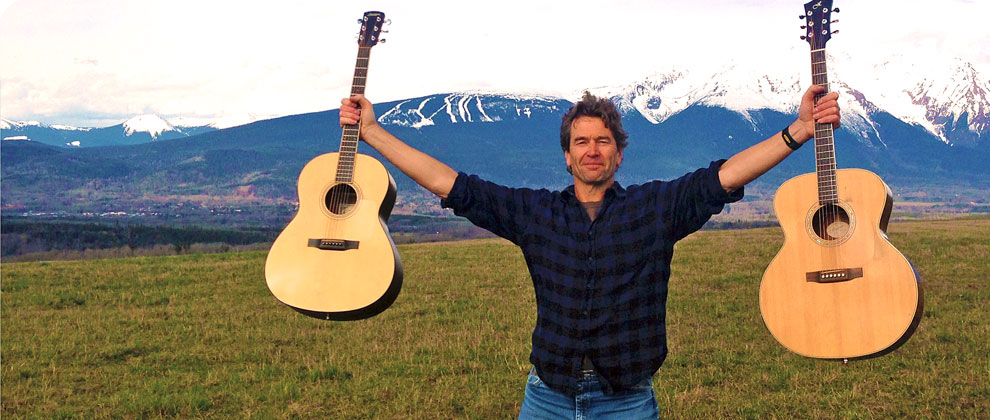 "Mark Perry's performance is a 'must-see' and a 'must-see again'."
About
Mark Perry is a contemporary folk style singer-songwriter from Smithers, British Columbia who has been performing for over 25 years and recorded 10 successful albums. He is currently touring with accompanying musician & luthier Mark Thibeault, and talented violin/fiddle player Kiri Daust. They are joined by accomplished percussion and bass musicians for appropriate venues.
LIVE Audience Rapport
Mark has a fun knack for building instant rapport with his audience. Through his airplay on national CBC radio and his performances at festivals and sold-out theatres throughout Western Canada, Mark has developed a large following of devoted fans. Ranging in age from 25-75, people connect with the universality of his lyrics and relish his infamous northern BC flavoured stories – hockey games on frozen lakes, small plane crashes in rural mountains, towns dying, towns being born, good times, tragedies and all the people that come with them.
"Mark writes the kinds of songs other writers wish they had written."  
~Shari Ulrich, Juno Award-winning musician & songwriter
"Mark Perry had our audience captivated through the entire show. His heart shines through in his voice and his songs. Weeks afterwards people are still coming to me saying how much they loved it. Mark Perry`s performance is a 'must-see' and a 'must-see again'."
~ Bruce Champion, Terrace Concert Society
"This singer/songwriter from Smithers is one of our finest, a guy whose songs are full of the telling little joys, frustrations and messy minutiae of real life. In a world of so much artifice, he's one of the real things." 
~ J.P.M., The Province newspaper, Vancouver, BC
"The soundtrack for my life is taken from Mark Perry's music. His song-writing, musical expression and stage presence emanates the very best, most magical qualities of life in a northern town. Perry's music invites me in to sit by his fire and feel like a cherished neighbour for a while." 
~ Carolina DeRyk, Host, CBC Radio North
Past Festivals
in addition to his own concert tours, some of Mark's past performances include:
Midsummer Music Festival, 2016 • Bulkley Valley Fall Fair Headliner, 2016 • Smithers Centennial Festival Headliner, 2013 • Terrace Riverboat Days Headliner, 2014 • BlueBird North Vancouver, Songwriters Assoc. of Canada, 2013 • Vancouver  Island Musicfest, Comox, 2004 • Rogue Folk Club, Vancouver, 2000 • Connie Kaldor Western Canada tour (Regina, Vancouver, Victoria) 1994 • Vancouver Folk Fest 1994
To Book Mark Perry
or for more information call 250.643.6221 or fill in the contact form below