Electronic Press Kit
Northern Canadian songwriter has a cool knack for connecting people & place
Contemporary Folk/Roots/Singer-Songwriter • Guitar, Violin, Pedal Steel, Electric Guitar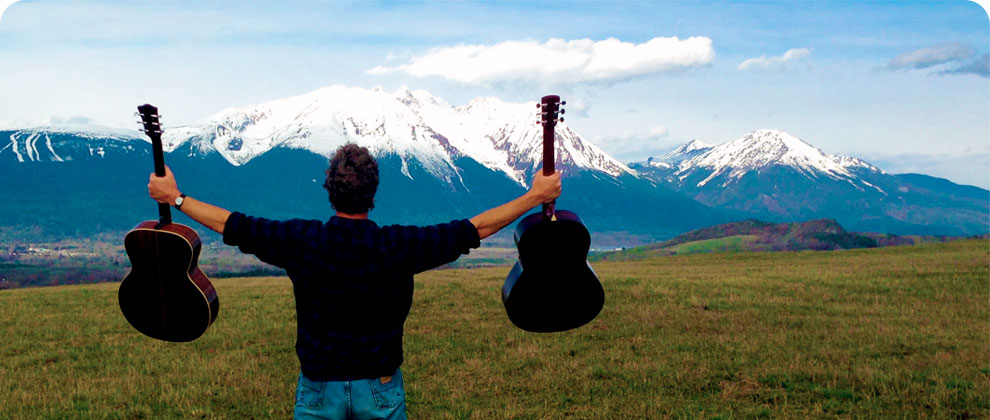 "Mark Perry's performance is a 'must-see' and a 'must-see again'."
The Real Thing
Born and raised in Canada's northwest, Mark Perry is quintessentially Canadian. He's slapped a lot of hockey pucks at 5am, out-pedaled black bears on his mountain bike and driven trains for the Canadian railroad from his home-base in Smithers, BC. He crafts alluring songs written mostly about the people, places and things in his beloved northern valley home and he's made icons of some of them as a result. From playing hockey on frozen lakes to grieving the sinking of a BC passenger ferry, Mark Perry's music takes you on compelling roadtrip through his heart and his love for rural Canada.
Engaging LIVE performer
What truly makes Mark Perry unique among contemporary folk musicians is his notable ability to enrapture his audience. He's a natural storyteller, as humble as can be, and he sings from the heart.
Fuelled & Focussed
Mark Perry is on fire with his new album Right Here, set for release in March 2018. It opens you up and coaxes you out like a fun new friend. Before you know it, Mark has taken you with him—to climb mountains to touch the sky, to paddle and fish the mighty Skeena, to drive country backroads waving at strangers, to cheer for a Cubs game on the local reserve, and to salute hippie girls in gumboots on Haida Gwaii. Right Here was recorded right here in Canada's northwest — in Whitehorse and Smithers with Jordy Walker (Old Cabin, Jordy Walker Music) and a circle of exquisitely-talented musicians including Tobin Frank (Spirit of the West), Rachelle van Zanten (RVZ), Ian Olmstead (Alex Cuba band), Mark Thibeault (Rayco Resophonics), MIP (MIP Power Trio) and others. This will be Mark's 11th album since he started recording and performing two decades ago. In between driving trains and raising a family, Mark has made impressive forays into the performing world — touring with Connie Kaldor, sharing stages with Alex Cuba, and recording with Roy Forbes, Shari Ulrich, Steve Dawson and Rachelle van Zanten. With his new album, Right Here, Mark is fuelled, focussed and touring again with full force.
Mark Perry and bandmates will be performing throughout BC, Alberta and the Yukon in 2018 / 2019.
"Mark writes the kinds of songs other writers wish they had written."  
~Shari Ulrich, musician & songwriter
"Mark Perry had our audience captivated through the entire show. His heart shines through in his voice and his songs. Mark Perry`s performance is a 'must-see' and a 'must-see again'."
~ Bruce Champion, Terrace Concert Society
"Geography may have shaped Perry's character, but it hasn't compromised his music's universal appeal." 
~ The Georgia Straight, Vancouver, BC
"This singer/songwriter from Smithers is one of our finest, a guy whose songs are full of the telling little joys, frustrations and messy minutiae of real life. In a world of so much artifice, he's one of the real things." 
~ J.P.M., The Province, Vancouver, BC
"The soundtrack for my life is taken from Mark Perry's music. His song-writing, musical expression and stage presence emanates the very best, most magical qualities of life in a northern town. Perry's music invites me in to sit by his fire and feel like a cherished neighbour for a while." 
~ Carolina DeRyk, Host, CBC Radio
"Offers a real slice of life, sans saccharin. I recommend it."
~ Rogue Folk Reviews, Vancouver, BC
In Performance
new videos are in the works. come back soon…
To Book Mark Perry
or for more information call 250.643.6221 or fill in the contact form below